Store
---
Join our Newsletter on the Home page to get updates on new shipments, quick sales and online coupons.
We perform an Age Verification process on all age restrictive products.
The Additional Shipping Options item is automatically added to the cart.
Modify as needed, click the [ Change ] button to add Shipping Insurance and/or Signature Required.
Cancelled orders are subject to a cancellation fee.
Precision ONe, .380 Auto, 100 gr., FMJ, Reman
BIA-PO-380-100-REMAN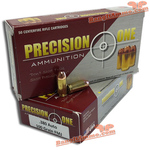 .380 Auto
Price:
14.99
USD
In stock
SPECIAL NOTES:

This is REMANUFACTURED ammunition.
From the Manufacturer
Precision ONe Ammunition is a relatively new company, but the owner, Jeff, has been reloading since the early '90's. Our company goals are to bring a consistant and accurate round to the market pleace. Only top quality components such as the brass, powder, primer, and bullets are used in the manufacturing process. Most factory ammunition for the consumer is made with generic powders and broader tolerances. Our products are developed for optimum accuracy and functionality with tighter tolerances using top name brand products.
On some calibers, like the .38 and .357, we use two different recipes for those calibers. If you have a short barrel or 'snub nose', we use a faster burning powder to get the most veloctity and accuracy for that perticular type of firearm. For barrels over 4" we use a slightly slower burnig powder to obtain a higher velocity without decreasing accuracy. The more the powder can burn in the barrel before the bullet exits (without exceeding the firearms' pressure limits) gives you more velocity (fps) and better accuracy.. One can always use either bullet in either firearm with absolutely no issues, some even like the 'flash-bang' associated with the slower burning powders. You and I would never notice a difference in 'burn time'...it is milliseconds-if that long.
All ammunition produced meets S.A.A.M.I. requirements and is made for that particular caliber it is designed for. You must specify if you want your ammunition customized for your firearm.
Precision ONe Ammunition is a fully licensed (Type 06 FFL) and insured company. We appreciate feedback both positive and negative. Please feel free to give us your opinion at any time. We will take all responses to improve our relationships with our customers and to improve our company's success.
Give us a shot and you will be back for more.
For more information please visit them on them at www.precisiononeammunition.com
Manufacturer:Precision ONe
Brand:Precision ONe
Condition:Remanufactured
Casing:Brass
Caliber:.380 Auto
Tip:FMJ
Grain:100
Rounds Per Box:50
Package:1 Box
---
– Notice –
You are responsible for knowing if you can legally purchase ammo in your area. By purchasing ammunition on this site, you are declaring that you are at least 18 years of age (if purchasing rifle ammunition), 21 years of age (if purchasing handgun ammunition), and that there are no Federal, State or local laws prohibiting you from purchasing ammunition.   We require that a valid copy of your state or federal issued ID is on file to verify your age prior to any shipment of ammunition. We will of course, accept your FFL as proof of age.  Please email (.pdf or .jpg) or mail us your age verification, see our Contact Us page for methods of communication. If we already have your ID on file, please let us know in the comments section during check out.
Prior to purchasing, it is the buyer's responsibility to check and make sure their guns will take the ammunition they are purchasing, whether it be the FPS and/or Caliber. Most people contact their gun's manufacturer before purchasing ammunition to confirm which caliber or type of ammunition is recommended for their guns. All ammunition sales are final.
Cancelled orders are subject to a cancellation fee.
If you notify us within 1 hour of your purchase that you made error at check out (like purchasing the wrong ammunition), a cancellation fee of 5% will apply to your refund.  This applies to all items purchased on our site.
Any ammunition order that is cancelled due to your failure to abide by the terms and conditions of our company's Terms and Conditions page, which you agreed to at check out, will result in a 15% cancellation fee subtracted from your total initial order.  Your initial purchase is evidence of this agreement. Remember, you cannot physically check out unless you manually agree to these terms, so don't hit "I agree" and then purchase it, if you do not want the merchandise or are not going to send in your age proof on your first order.
Once that hour passes or you fail to abide by the terms and conditions of the transaction, this fee stands and we will defend this charge as needed.
Please review our Age Verification and Terms and Conditions pages for complete information.